《Introduction to Infiniband for End Users》 阅读笔记。
---
1. Basic Concepts
1.1. InfiniBand vs traditional networking
传统的计算机网络
"network centric" view,重点关注在硬件以及其管理上
应用程序共享的硬件资源统一由操作系统管理,无法 direct access

网络通信时,数据包每次需要复制 2 到 3 次:I/O -> anonymous buffer pool -> Application's virtual memory space

byte stream-oriented,传递字节流,一条消息完整地传递至对端时,接收端可能会触发多次系统调用以读取完整的消息
数据中心网络可能由三个独立的网络组成

one for networking
one for storage
one for IPC
InfiniBand
"application centric" view,为应用程序提供 messaging service,重点关注在便于应用程序之间简单、高效的通信上
direct access, stack bypass,可以不依赖操作系统

avoiding operating system calls
avoiding unnecessary buffer copies

message-oriented,传递消息,单个消息大小可达 $2^{31}$ bytes

发送端 InfiniBand 硬件自动将 outbound message 分成多个 packets 传递至接收端应用程序虚拟缓冲区
只有在接收端收到完整的 messsage 时才会通知应用程序
可以发现,在传递消息的过程中,不需要发送端和接收端应用程序参与

InfiniBand 会统一处理 storage, networking 和 IPC I/O,因此只需单一底层网络即可
1.2. InfiniBand Architecture
InfiniBand 通过在应用程序之间创建 channel 连接 (故可称为 Channel I/O) 以提供 messaging service 进行通信,如下图所示:
Queue Pairs(QPs): 指 channel 的端点,每个 QP 包含一个 Send Queue 和一个 Receive Queue
通过将 QPs 映射为应用程序的虚拟内存空间,以实现应用程序直接访问 QPs
InfiniBand 提供两种 transfer semantics 用于传递消息

channel semantic: SEND / RECEIVE

接收方预先在自己的 Receive Queue 中定义数据结构
发送方无需知道接收方 RQ 中的数据结构,仅负责调用 SEND 发送消息

memory semantic: RDMA READ / RDMA WRITE

接收方在自己的虚拟内存空间中注册一个 buffer,并将控制权交予发送方
发送方通过调用 RDMA READ 或 RDMA WRITE 读写该 buffer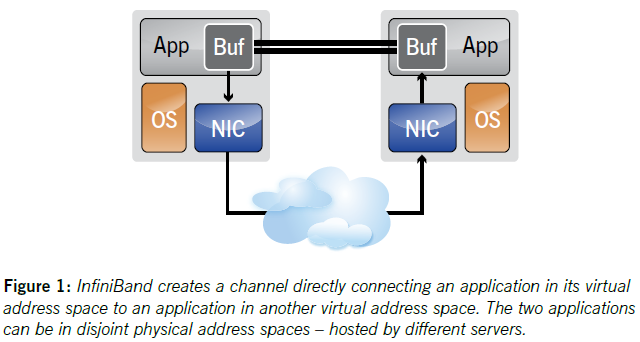 InfiniBand Achitecture 如下图所示:
SoftWare transport interface 层包含创建/管理 channel 和使用 QPs 传递消息的 APIs and libraries
InfiniBand transport 层提供 reliablity & delivery guarantees,类似 TCP transport
Network 层类似于 IP 层
Link & Physical: wires & switches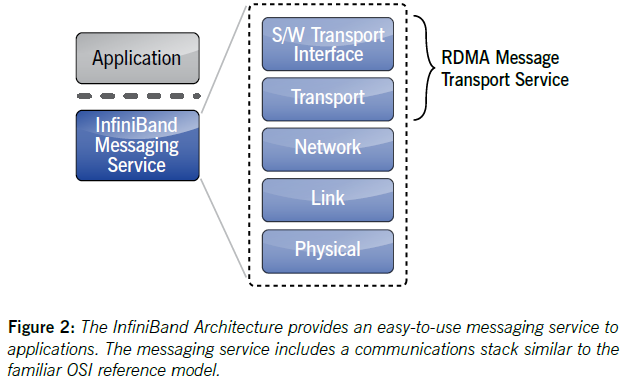 1.3. Hardware Components
为了获取 InfiniBand Architecture 所提供功能,需要以下特定硬件的支持:
Host Channel Adapter(HCA)

将 InfiniBand end node 连接至 InbiniBand network
提供 address translation mechnisms,以让应用程序可直接访问物理内存

Target Channel Adapter(TCA)

嵌入式环境下专用的 channel adapter

Switches

Designed to be "cut through" for performance and cost reasons and they implement InfiniBand's link layer flow control portocol to avoid dropped packets

Routers

可将规模较大的网络切分为多个子网,为 InfiniBand network 提供可扩展性
用来连接物理距离较远的两个 InfiniBand subnet

Cables and Connectors
2. InfiniBand for HPC
InfiniBand 架构的特性可为 HPC 带来以下好处:
Ultra-low latency for

Scalability
Cluster performance

Channel I/O delivers:

Scalable storage bandwidth performance
Support for shard disk cluster file systems and parallel file systems
3. InfiniBand for the Enterprise
Devoting Server Resources to Application Processing
虚拟化只是提升了服务器资源的利用率
使用 InfiniBand 由于避免了无必要的系统调用和内存拷贝,可将服务器资源充分用于 Applications
A Flexible Server Architecture
现有服务器会将 I/O 带宽资源按照一定比例预分配给 storage fabric(HBA) 和 ethernet network(NIC),可能并不适合应用程序所需
InfiniBand 则会统一处理 storage, networking 和 IPC,无需对 I/O 带宽资源进行预分配
4. Designing with InfiniBand
如下图所示,应用程序通过使用 verbs 将 work request 置于 work queue (也就是 QPs) 中。
verbs 只是应用程序使用/管理 InfiniBand 服务的规范,而非具体的 APIs.
实现 InfiniBand 所需的软件部分大致可分为以下三类,全部源码可从 OFED 获取。
Upper Layer Protocols(ULPs) and associated libraries
mid-layer functions: 用于配置和管理底层 InfiniBand Fabric,并为 ULPs 提供所需的服务
hardware specific device drivers
ULP 有两种接口:
upward-facing interface: 供应用程序调用
downward-facing interface: 通过 QPs 使用底层的 InfiniBand messaging service
OFED 提供了多种 ULPs 以满足应用程序的不同需求: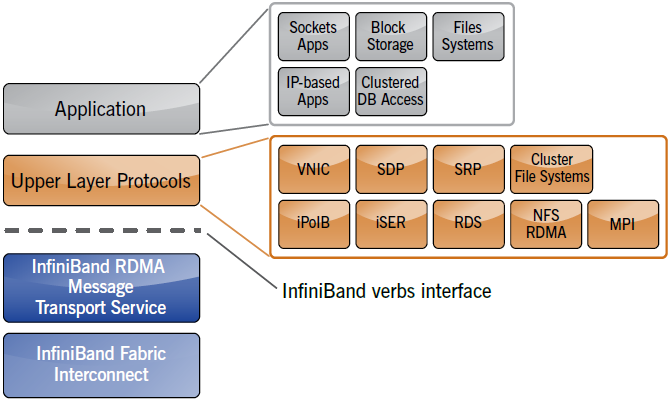 SDP: Sockets Direct Protocol. This ULP allows a sockets application to take advantage of an InfiniBand network with no change to the application
SRP: SCSI RDMA Protocol. This allows a SCSI file system to directly connect to a remote block storage chassis using RDMA semantics. Again, there is no impact to the file system itself.
iSER: iSCSI Extensions for RDMA. iSCSI is a protocol allowing a block storage file system to access a block storage device over a generic network. iSER allows the user to operate the iSCSI protocol over an RDMA capable network.
IPoIB: IP over InfiniBand. This important part of the suite of ULPs allows an application hosted in, for example, an InfiniBand-based network to communicate with other sources outside the InfiniBand network using standard IP semantics. Although often used to transport TCP/IP over an InfiniBand network, the IPoIB ULP can be used to transport any of the suite of IP protocols including UDP, SCTP and others.
NFS-RDMA: Network File System over RDMA. NFS is a well-known and widely-deployed file system providing file level I/O (as opposed to block level I/O) over a conventional TCP/IP network. This enables easy file sharing. NFS-RDMA extends the protocol and enables it to take full advantage of the high bandwidth and parallelism provided naturally by InfiniBand.
Lustre support: Lustre is a parallel file system enabling, for example, a set of clients hosted on a number of servers to access the data store in parallel. It does this by taking advantage of InfiniBand's Channel I/O architecture, allowing each client to establish an independent, protected channel between itself and the Lustre Metadata Servers (MDS) and associated Object Storage Servers and Targets (OSS, OST).
RDS: Reliable Datagram Sockets offers a Berkeley sockets API allowing messages to be sent to multiple destinations from a single socket. This ULP, originally developed by Oracle, is ideally designed to allow database systems to take full advantage of the parallelism and low latency characteristics of InfiniBand.
MPI: The MPI ULP for HPC clusters provides full support for MPI function calls.
5. InfiniBand Architecture and Features
5.1. Address Translation
HCA 占有一块物理地址,应用程序可通过内存注册过程请求必要的地址转换,然后由 HCA 使用地址转换表执行所需的虚拟地址到物理地址转换
I/O channel 由 HCA 创建,QP 可以理解为应用程序访问 HCA 的接口,单个 HCA 可支持最多 $2^{24}$ 个 QPs
得益于 HCA 提供地址转换功能,可实现 InfiniBand 的两个核心功能:
用户态访问 InfiniBand messaging service
使用 InfiniBand messaging service 可"直接"访问其他应用程序的 virtual address spaces

使用对端提供的 key 和 virtual address,执行 RDMA Read/RDMA Write 操作
5.2. The InfiniBand Transport
InfiniBand transport 可提供以下几种 message transport services:
Channel semantic operations: a reliable or an unreliable SEND/RECEIVE service,类似于 TCP/UDP

可靠性由 transport recovery 和 notifies application 机制实现
SEND/RECEIVE operations 常用于传输 short control messages
执行流程:

接收端应用程序使用 Post Receive Request verb 将 WRs 置于 RQ,其中每个 RECEIVE WR 代表应用程序虚拟内存空间中的一块 buffer
发送端应用程序使用 Post Send Request verb 将 WRs 置于 SQ,其中每个 SEND WR 代表一条消息,SEND 操作的目标为接收端 RECEIVE WR 关联的 buffer

Memory semantic operations: RDMA Read and RDMA Write service
Atomic Operations
Multicast services
5.3. InfiniBand Link Layer Considerations
InfiniBand link layer lossless flow control:利用硬件检测接收端缓冲区使用量,仅在可容纳消息时才会传递消息,保证消息不会被丢失
TCP lossy flow control: 并不会在发送前检测下游是否可容纳 packets,因此 packets 可能会丢失,事实上 TCP 还会利用丢包信息判断下游状态
5.4. Managment and Servcices
与 autonomous Ethernet fabric 相反,InfiniBand 为集中式管理,其管理主要分为以下几个方面:
Subnet Management(SM) and Subnet Administration(SA): 发现、初始化和维护 InfiniBand fabric
Communication management: 将一对 QPs 关联以便在两个应用程序之间创建 channel 连接
Performance management
Device management
Baseboard management
SNMP tunneling
Vendor-specific class
Application specific classes
6. Achieving an Interoperable Solution
可以不看
7. InfiniBand Performance Capabilities and Examples
2010 年的文档,注意时效性
throughput
server to server: $40 Gb/s$
switch to switch: $120 Gb/s$
latency
application: $1 \mu s$
swicth: $100 ns$ to $150 ns$
当前数据可查看 InfiniBand Roadmap